By Ray Tio
Many of my students have asked me about past tournament experiences I've had and the places I've been around the world to compete in. Thanks to my devotion to JKA Karate, I have been able to travel within Canada as well as internationally numerous times for JKA Karate National, Invitational, Pan-American and World Championship tournaments over the past 29 years. Rather than to list all my JKA Karate tournament accomplishments over that length of time in this blog, I decided rather to list the the dates and places I've traveled to, specifically for The JKA Karate World Championships and highlight the things that standout in my mind from each of these events. I have been to every single one since 1992, a total of 8 World Championships in the last 20 years and have been blessed to have achieved a total of 5 medals. I plan to take part in my final World Championships next year in Tokyo, back to where it all started for me, a full circle. I have learned and grown so much as a karateka due to these experiences and have been blessed to witness first-hand incredible feats of athleticism, the evolution of JKA Karate champions, the last JKA Karate World Championship performance of a future UFC Champion, while at the same time I was extremely blessed to visit some of the most beautiful countries around the world.
1992
I was 17 years old and competed for the  first time at The  JKA Karate World Tournament (Then called The Shoto Cup) held in Tokyo, Japan. I was competing in the Men's Team Kata Event with Chris Troch and Greg Findlay, both from Sault Ste. Marie, Ontario. My brother Stan, was at the tail end of a 5 year hiatus from karate training during this time.
There is nothing like being at a JKA Karate World Tournament for the first time. It is awesome, overwhelming, incredible!
It was the  first time witnessing the amazing Frank Brennan of Great Britain in action! He placed 2nd in the Kumite event losing to the impeccable timing of the equally amazing Tomio Imamura of Japan. Both of them are in my top 5 list of favorite JKA Karate fighters of all time, the others being Toshihito Kokubun of Japan, Johan La Grange of South Africa, Masao Kagawa of Japan, and I should also mention another favorite of mine, female champion Hiromi Hasama of Japan. What's even more incredible was the fact that the Japanese team had to compete in their National event (All-Japan Championships) the day before! Since then they have never again done this, understandably.
I remember it being extremely hot in Japan but as always beautiful and full of tradition. We visited many beautiful temples and I particularly remembering eating lots of chinese food, ironically.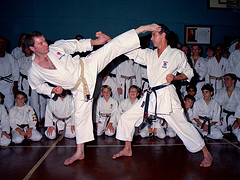 Frank Brennan
1994
The JKA Karate World Championships were held in Philadelphia, USA. It was very well organized and took place in the basketball stadium used by the NBA Team the 76′ers. There was a huge parade consisting of karateka from all over the world that walked the streets of downtown Philly to open the event the day before. I competed in Individual Kata, Individual Kumite and once again, Team Kata alongside my brother Stan and our good friend Craig Ashman, who is now a dedicated ETF (Emergency Task Force) Police Officer. We placed 2nd in the semi-finals right behind Japan, but fell to 4th place in the finals. Still, it was a great accomplishment for Canada and the highest placing Canada ever accomplished at the time in any event. I made it to 3rd round in individual kata, losing to Hisashi Terashima of Japan. In individual kumite I made it to the 2nd round and lost to a fellow from Sweden.  This was the year that the camaraderie between Stan and I really began to develop. We pushed each other to be the best we could be, without any sibling rivalry, just two brothers helping each other to reach our potential. I was 19, Stan was 23.
It was also the first time that a non-Japanese competitor would win an individual event, with Pavlo Protopapa from South Africa doing so when he became the Kumite  Champion.
This was also the first time we witnessed the best JKA Karate Women's Kumite fighter of all time, Hiromi Hasama of Japan win her first title. To this day she is probably still the fastest fighter I have ever seen! She would go on to win this event a total of  3 times before retiring as champion.
Hiroyoshi Okazaki from the US, was the reigning Pan-American Kata Champion and was my idol as well as my biggest kata influence at the time. Stan and I were in awe of his kata! So sharp, precise and what a jump! He placed 2nd in the individual kata event behind champion, Takenori Imura of Japan. Hiro, alongside Kazuaki Kurihara (the current reigning world champion), Yoshiharu Osaka, and Mikio Yahara, from Japan, as well as former female kata champion, Yuki Mimura  are my favorite JKA Karate kata practitioners of all time.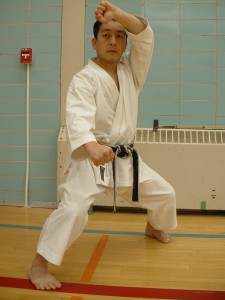 Hiroyoshi Okazaki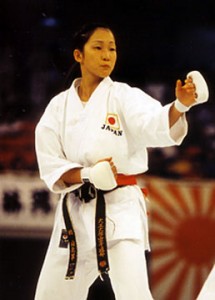 Hiromi Hasama
1996
The JKA Karate World Championships were held in Osaka, Japan.  Stan and I both made the Individual Kata event finals for the first time placing 5th and 6th respectively. The top 4 ahead of us were all from Japan. We also placed 4th again in Team kata. But even more importantly we witnessed our teammate, Don Sharp win the men's Individual Kumite Event! To win this event he had to win close to 10 fights and along the way he beat incredible fighters such as Katsutoshi Shiina and Takuya Taniyama, both from Japan. In the finals he met Toshihito Kokubun, my favorite JKA Karate fighter of all time. They had a great battle, with Don winning by disqualification. It was a just decision. Team Canada was really put on the map after this JKA Karate World Championships.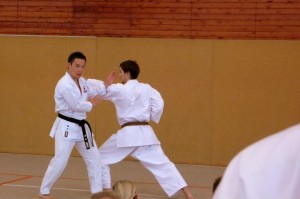 Toshihito Kokubun
1998
The JKA Karate World Championships were held in Paris, France. As beautiful as Paris was, this was my least favorite of all my trips to the World Championships.  I did get to see most of the beautiful sites in Paris, like the Eiffel Tower, and The Arc de Triomphe, and The Louvre, but was too young and immature to really appreciate all its beauty and history. I was even dismayed to find out that when making a crepe in Paris, they use the same old nutella chocolate that we do here in Canada, lol.
The tournament site was pretty bad in my opinion, as well as that of most of our team. It was way outside Paris, apparently not such a good part of town, and was way too small to be holding such an event. The highlight of the tournament for me was watching my kumite idol Toshihito Kokubun win his first World Championship beating future starand champion, Koji Ogata in the finals. I found that this tournament was marred by many questionable judging calls, specifically in the kumite events. Due to karate politics in Canada, Stan and I were not listed to compete in the kumite events even though we both qualified for it. For the third time, we placed 4th in the Team Kata event. This time the team consisted of myself, Stan and Eddie Leung, who was a long time senior instructor of ours growing up. Incredibly Eddie was in his forties at the time, yet it was still the best team technically that we ever had. Although we placed 4th again we knew our team was definitely looking up. I made it once again to the Individual Kata finals and again placed in the top 6, with the top 4 being from Japan, and the 5th being my idol Hiro Okazaki from USA. I was truly honored to be part of such company.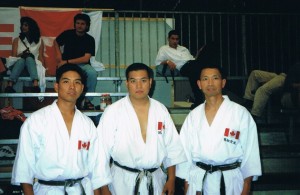 1998 Team Kata (Stan Tio, Ray Tio, Eddie Leung)
2000
This was by far my most memorable JKA Karate World Championships ever! It was once again held in Tokyo, Japan. This was a World Championship that was filled with highlight, after highlight, after highlight for me. Where to begin?
The tournament was held in the Budokan, or "Martial Arts Hall",  an historical, beautiful stadium in Tokyo used for big martial arts events in the past for Judo, Kendo, Aikido and of course Karate.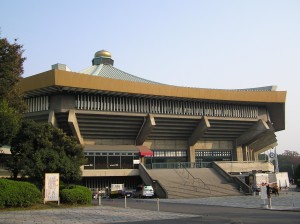 Prior to the championships, Saeki Sensei 7th Dan and now the Chief Instructor of our Canadian JKA Association, had arranged for our team to stay at an affordable campground used for military training just outside of Tokyo, in Gotemba. Coincidentally, staying at the same location was the Brazilian National Team that consisted of the Machida brothers, Lyoto and Chinzo. The team was coached by their well respected father, Master Yoshizo Machida. Lyoto would have only been around 22 at the time and Chinzo 24. Of course as most know, Lyoto Machida would go on to become The UFC Light Heavyweight Champion close to 8 years later and his brother Chinzo would go on  to becoming the JKA Karate World silver medallist in the individual kumite event in 2011, narrowly losing to winner Koji Ogata from Japan. Stan and I remember sneaking a peak of the Brazilian team training and thinking "Damn good fighters, but we should be able to beat them in kata", lol. Ironically, in the Team Kumite event we were paired against Brazil in the first round. We narrowly lost to them but it was an amazing learning experience. We were particularly impressed with Lyoto's fighting prowess and watched him closely in the Individual Kumite event winning fight after fight each time more impressively, before losing in the quarter-finals to eventual two-time world champion, Toshihito Kokubun. It was a great fight, but a young Lyoto was no match for the seasoned Kokubun at this time. It was the last JKA Karate World Championships that Lyoto would ever compete in.
The Men's Individual Kumite final fight was between two of my all time favorite JKA Karate fighters, Toshihito Kokubun and Johan La Grange of South Africa.  The full point that La Grange scored on Kokubun is still the best point I have ever seen! To this day it is still my favorite JKA fight ever!
Hiromi Hasama, won her 3rd and final Individual Kumite Championships as well in always impressive fashion.
To cap off such an epic World Championships, our kata team, once again consisting of Eddie Leung, Stan and myself finally found ourselves on the podium placing 3rd! This was the first of my 5 World Championship medals.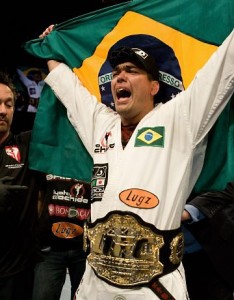 2004
The JKA Karate World Championships were once again held in Tokyo, Japan. It was originally to be held in my home country of Indonesia but was cancelled, and later delayed two more years due to the SARS outbreak in Asia.
My first born daughter, Isabella was born earlier in the year and I was not even sure if I'd be able to attend this championships. Thankfully, I was. Stan and I were now considered veterans at the ages of 30 and 34. Even more impressive, Eddie Leung now in his late 40′s was still a member of our Kata Team and in his best shape ever! Due to our success 4 years earlier we knew we had a good chance of medalling again, maybe even placing 1st or 2nd this time. We, along with the rest of the competitors and spectators were pleasantly surprised to see a new, super impressive team from the country of Myanmar (formerly Burma) crush our chances of bettering our result from 2000 once again pushing us to 3rd place, with Japan again placing 1st, and Myanmar 2nd. This was my 2nd World Championship medal and I could not have been happier.
With the retirement of Kokubun, a new Men's Individual Kumite Champion emerged, Koji Ogata who won the title, his first of two, impressively and with much ease.
The Men's Kata Championship was surprisingly won by Kastutoshi Shiina, from Japan. Terumi Nakata, also from Japan was super sharp winning gold in the Women's Kata event for the 2nd time.
In the Women's Kumite event a new young champion emerged, Satomi Okuie.
2006
The JKA Karate World Championships were held in Sydney,  Australia. I was so excited to travel across the world to a continent I've always wanted to visit. What made this event even more exciting was the fact that it was held in the same stadium that was used for the 2000 Summer Olympics!
Sydney lived up to all the expectations I had, it's beautiful! We visited the awesome Sydney Aquarium, King St. Wharf, and Cockle Bay Wharf which was just a short walk away from Chinatown, where we spent alot of time eating! As a city it actually reminded me of  Toronto, great nightlife, quite multicultural and great food!
Again in the Team Kata event, this time alongside my brother Stan and Ignacio Gamsawen, who is originally from the Phillipines we placed 3rd, however we were quite lucky to make it into the finals. In the semi's we didn't quite score so well and were tied with two other teams for the 8th and final spot to enter the finals. To make matters worse one of the teams we were tied with was Australia, the home team. We buckled down in the tiebreaker and managed to get that 8th spot. Again luckily, scores from the semi-finals are not carried over to the finals. We were the 2nd Team to perform in the finals, not the best place to be, but we again performed our "bread and butter" kata Unsu, and managed to reach the podium again. This was my 3rd World medal. In the Team Kumite event, which both Stan and I were a part of, we again went head to head with the home team Australia, and they beat us by the smallest of margins to reach the final four teams. For the third time I made the finals in the Men's Individual Kata event,  and placed 5th behind four Japanese competitors (each country is allowed to field 4 competitors per country in each individual event). I was very happy to be once again considered one of the best in the world outside from Japan. Chinzo Machida, Lyoto's brother turned a lot of heads by placing 2nd behind the repeat champion, Koji Ogata in the Men's Kumite event.
This was also, a very memorable World Championships for me, and definitely one of my favorites, especially right after the event when I was able to exchange team jackets with one of my all-time favorite competitors from Japan, Takuya Taniyama.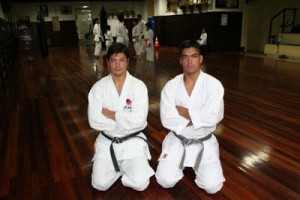 Silver Medallist, Chinzo Machida alongside his brother, Lyoto Machida former UFC Champion
2011
The last JKA Karate World Championships (now called The Funakoshi Gichin World Championships, named after the founder of Shotokan) was held in Pattaya, Thailand. There was a five year gap instead of the usual two years due to the terrible economic situation the entire world was experiencing.
Thailand in a nutshell: hot as hell, beautiful beaches and water, awesome food at awesome prices, makes you feel happy yet sad at the same time due to living conditions and practices, great place to visit but not to live in.
For this world championships Stan and I both felt very confident that we were ready to reach new heights at this championships. We both had seen what it takes to win and felt that we were finally at that level that we could take home a medal in a kumite event as well as a kata event. For the fourth time I reached the Men's Kata final, a feat that no one else has ever done and again placed in the top 6 in the world. For our Team Kata, now coach Eddie Leung, Stan and I decided that our Team Kata was getting older and we needed a young blood on our team who could add a spark that could help us reach to heights we never have been able to reach before; one of the top two teams in the world. That spark came in the form of Colin Chin, from Calgary Alberta, who just happened to be living in Toronto for the two years prior to the championships for dental hygiene school. Perfect timing! It must have been meant to be because not only did he add the spark we needed to place 2nd in the World behind Japan, but he also added the spark we needed to place 3rd in the Team Kumite event, an event Canada has never placed in ever before! Thanks to Colin's help alongside Stan, Eric leung (son of Eddie Leung), Don Sharp, and Etienne Herady, and myself, we got passed Team England, Team Uruguay, Team Russia and Team Norway to place third after losing to Team Brazil (which notably consisted of third Machida brother, Taka and Jamie Sandal who was the striking coach for former UFC Champion, Vitor Belfort) in the semi-finals. This added the 4th and 5th World Medals to my list as well as Stan's and we both considered retirement from competition after this amazing one. Not only did the Canadian men do well, but also the women's team, specifically the Team Kata (Manon Quirion, Carole Canaan, and Sandrine Ng, all from Quebec) who placed 7th, and Carole Canaan in the Individual Kumite event, who placed in the top 16. This was by far, the best team effort and result that Canada had ever produced!
Stan decided that at age 41 it was time to step away, and he did retire from competition but will remain as one of our coaches. Being that I'm three and half years younger than Stan and I would like to finish where I started, in Tokyo Japan, I decided that I will retire next year after the 2014 JKA Karate World Championships.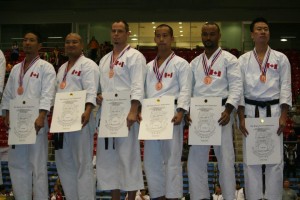 Osu!!!